The final celebration event took place at
Charnock Hall Primary Academy at 7.00pm on the 28th and 29th June.

The event featured the four new plays created for the project -
'Aliens?' performed by St John Fisher Primary School
'Buck Up!' performed by Charnock Hall Primary Academy
'Heroes?' performed by Rainbow Forge Primary Academy
'Ernest' performed by Birley Primary Academy
There was also a display room featuring work from the project.

Over 200 people came to experience the event, including the Lord Mayor of Sheffield and academics from Sheffield Hallam University and the University of Leeds.
The audience reacted with great enthusiasm and were clearly moved and impressed by the children's performances.
​
"I feel honoured to have been involved in something so powerful and meaningful..."
Year 6 Teacher

Contact WAT​for free Year 5 / 6 English resource containing the four plays

Gertie has written the teaching pack for the project. The pack is built around the brand new plays (see below) and uses the history as a resource for English and to encourage student's writing.The pack has been trialled in St John Fisher Primary school with their Year 5 class. Here is what one of the pupils said about the work -
"I think your work was amazing there is nothing to improve. You're an amazing writer andteacher. Your work is amazing. Keep up what you are doing."
Sheffield Star June 2017

The Sheffield Star covered the project and the celebration event in a double page article in their 'Retro' section.
Have a closer look below.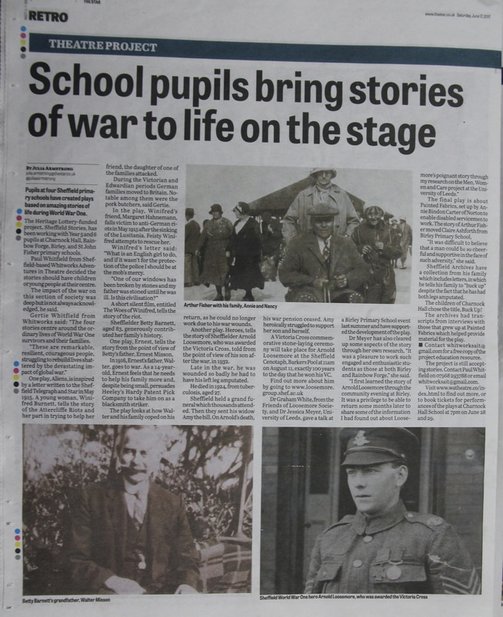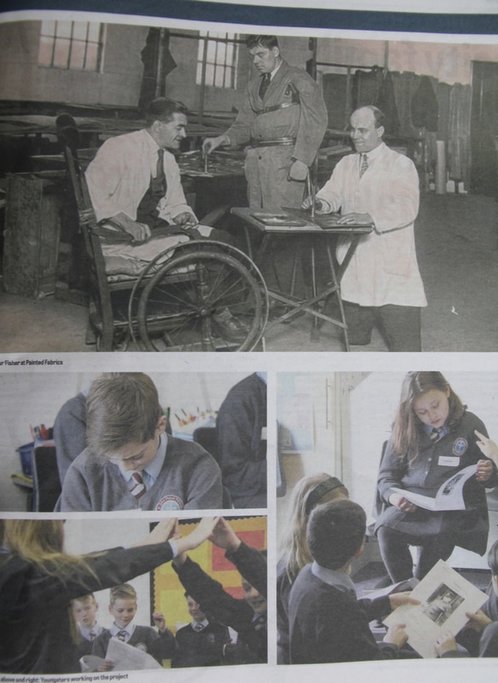 The Project featured in the Sheffield Star!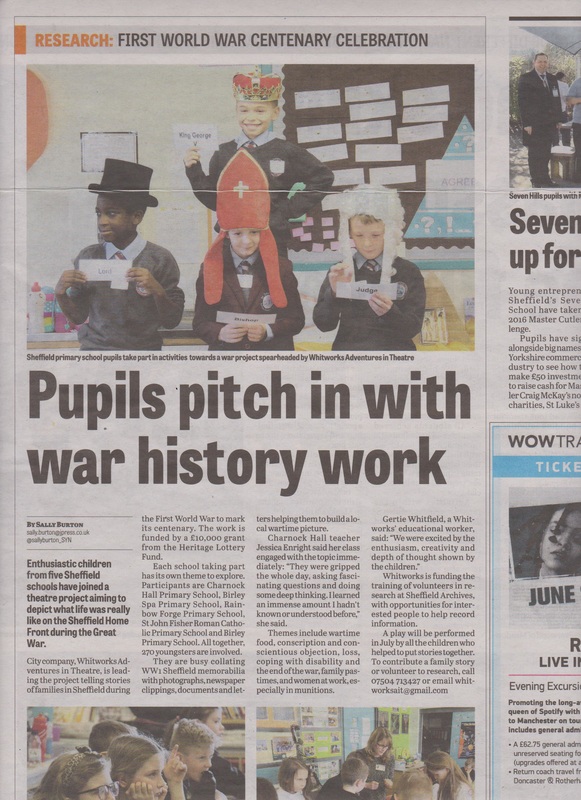 Visit to the University of Leeds

We took a small group of staff, children and community volunteers to the University of Leeds on May 26th. Prof Alison Fell led the group in exploring WW1 documents from the Liddle collection. The group had a fascinating time exploring the documents and presenting their findings back to us all.
Sheffield company, Whitworks Adventures in Theatre are supporting the children and community of Charnock Hall Primary School, Birley Spa Primary School, Rainbow Forge Primary School, St John Fisher Roman Catholic Primary School and Birley Primary School to lead the research process. Children, their families and volunteers will collect photographs, newspaper clippings, documents, letters and photos of keepsakes, as well as family tales passed down to help them build a clear picture of what life was really like on the Sheffield Home Front.

Sheffield Archives and Local Studies have to trained adults interested in becoming volunteer researchers. Academics from across England are supporting the project's research phase and visiting the schools to share their expertise with the children and members of the community.

As well as recording and logging research, at the end of the project there will be a celebratory event in which the year sixes of the five schools involved will perform a play based on the research by local playwright, Paul Whitfield. The play will have been developed in consultation with the children. The play will also form the heart of a new World War I educational resource for primary schools.
​