WAT has already led training for Bakewell adult volunteers on using Ancestry and British Newspaper Archive.

Becky Sheldon from Derbyshire Records Office and Dr Nicola Verdon from Sheffield Hallam University have run fascinating sessions with the volunteers, who are making great strides in researching stories.

The project will be visiting the Old House Museum in Bakewell on March 18th 2018 with behind the scenes access to their WW1 archive.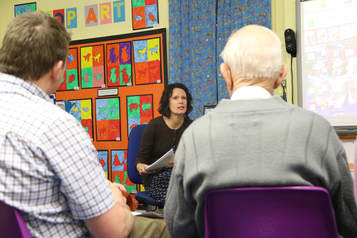 Bakewell Infant School secure National Lottery funding to mark First World War Centenary

Bakewell Infant School has received a National Lottery grant of £9,500 from the Heritage Lottery Fund (HLF) for its project: Bakewell First World War Homefront history of the people in the past and its community today. Awarded through HLF's First World War Then and Now programme, the project will focus on discovering what everyday life was like in the local area and what impact the events of the First World War had on its people.

The project will involve the current Year One pupils, parents and the local community. Volunteers will be given the opportunity to be trained by Derbyshire Records Office and Whitworks Adventures in Theatre in how to use records for research purposes, capturing the World War One stories of the people who still live in the village now.
​
Further avenues of research will be work, food and farming. Nicola Verdon from Sheffield Hallam University, who is researching Derbyshire food and farming during World War One, will support the research, giving further insight in to the lives of the people of Bakewell at that time.

Activities will include drama workshops for Year One pupils, led by skilled and experienced practitioners from Whitworks Adventures in Theatre. The children will also be encouraged to respond with art and writing. They will have the opportunity to influence the content of the book telling a story for their age group.

The children will also be working with ceramicist, Mary Else to create a permanent memorial at the front of the school.

This National Lottery funded project will also culminate in the creation of a book containing research and written responses from pupils. The book will be given free to all the families in the infant school and other community members.

The books and the unveiling of the ceramic memorial will be at the centre of a commemoration event on November 12, 2018.

The discoveries of the project will be shared as widely as possible in Derbyshire and online.
Commenting on the award, Headteacher Tricia Outram said: "We are thrilled to have received this support thanks to National Lottery players and very excited about the local stories we should be able to uncover that will help us to develop our understanding the community we serve."
---