LATEST PROJECT
WAT are working with Bakewell Infants School on their exciting new WW1 project

Bakewell Infant School has received a National Lottery grant of £9,500 from the Heritage Lottery Fund (HLF) for its project: Bakewell First World War Homefront history of the people in the past and its community today. Awarded through HLF's First World War Then and Now programme, the project will focus on discovering what everyday life was like in the local area and what impact the events of the First World War had on its people.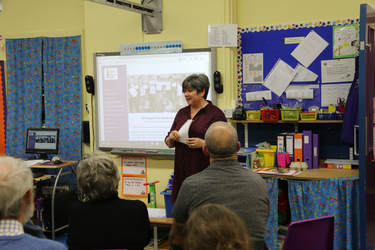 Gertie at the first meeting of the Bakewell Infants volunteer researchers
WAT has already led training for volunteers on using Ancestry and British Newspaper Archive.

Becky Sheldon from Derbyshire Records Office and Dr Nicola Verdon from Sheffield Hallam University have run fascinating sessions with the volunteers, who are making great strides in researching stories.

The project will be visiting the Old House Museum in Bakewell on March 18th 2018 with behind the scenes access to their WW1 archive.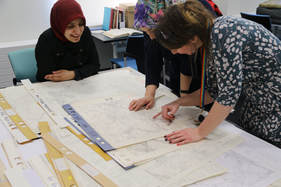 Norbriggs WW1Exciting work continues with Norbriggs Primary School at Mastin Moor in Derbyshire.​To find out more click here.On February 16th 2018 a small group of research volunteers travelled to the Derbyshire Records Office. Becky Sheldon, archivist, gave the group a tour of the Records Office, including the behind the scenes spaces where the records are stored. She also gave access to some fascinating documents from the WW1 period.
---
Parkwood 1914 - 1918

WAT are working with Parkwood Primary School in Keighley following their successful Heritage Lottery Fund bid.
The project was launched on the 4th May 2017 at Parkwood Primary School. There was an enthusiastic community meeting in the morning. The Year 5 children enjoyed a two day introduction to the history of World War 1 through drama and creative activities run by Whitworks Adventures in Theatre.
Y5 pupils said :
"It was great! I found it fascinating to learn about the man whose wife was pregnant with their third child who ran away to help the other soldiers in the war and got shot."

"It was like I took a trip back in time."
​Find out more on the Parkwood 1914 - 1918 page.